Frequently Asked Questions
Got questions? We've got the answers.
If you have a question that is not written in the below, you contact us here!
Do KalaVita products contain animal products?
All of our gummies are vegan!
Is there any wheat or gluten in KalaVita products?
All of our products are gluten-free, however please note our products are processed on shared equipment that may have traces of fish, milk, tree nuts and sulphur dioxide.
What are the types of sweeteners used in KalaVita products?
We've tried and tested different ratios to come up with the perfect combination, so you get all of the goodness without any of the aftertaste. Our products use a combination of Maltitol, Xylitol, Steviosides and Erythritol natural sweeteners.
Are KalaVita products appropriate for children?
KalaVita products are safe for adults over the age of 18 and are not recommended for children.
What happens if my kids accidentally consume KalaVita products?
Our gummies do not contain any added iron or fat-soluble vitamins (A, D, E, K) that can be a cause of concern. However, please contact your child's physician immediately to discuss your concern or if your child is showing abnormal symptoms.
Can I take your products if I am pregnant or on breastfeeding?
Please consult a medical doctor before taking KalaVita products if you are pregnant, nursing, on medication, have or are suspected to have a health condition.
Are all KalaVita products Non-GMO?
We're proud to say our products are completely GMO free.
Are there any artificial flavors, colors, or dyes?
Only natural food colorings here!
Can I combine KalaVita products?
Yes, KalaVita products are designed to address your daily needs and goals! Start with Focus Focus in the day to help you power through your goals, and end with Nite Nite in the evening to get a great night's rest.
Where should I store KalaVita products?
We recommend storing KalaVita products in a cool, dry place and keeping them away from any direct or indirect heat, as the gummies will melt if exposed to temperatures over 85° F.
How long do KalaVita products keep for?
KalaVita products expire 24 months from the date of manufacturing and you can find the expiration date on the bottle. Vitamins and minerals do lose potency as they age, so be sure to store your gummies correctly and consume them within their shelf-life period.  
How long does shipping take?
Your gummies will be boxed up and ready to ship out to you in 2 days after we receive your order.
If ordering from the US, delivery will typically take 2-5 days post shipping.
Although we're confident you'll love our products, we know sometimes it doesn't work out. If for any reason you do need to make a return of any unopened product, please email us at contact@kalavitanutrition.com. Be sure to include your order number and reason for return in the email and we'll get right back to you!
Does KalaVita sell on Amazon?
Why do my gummies have a white coating?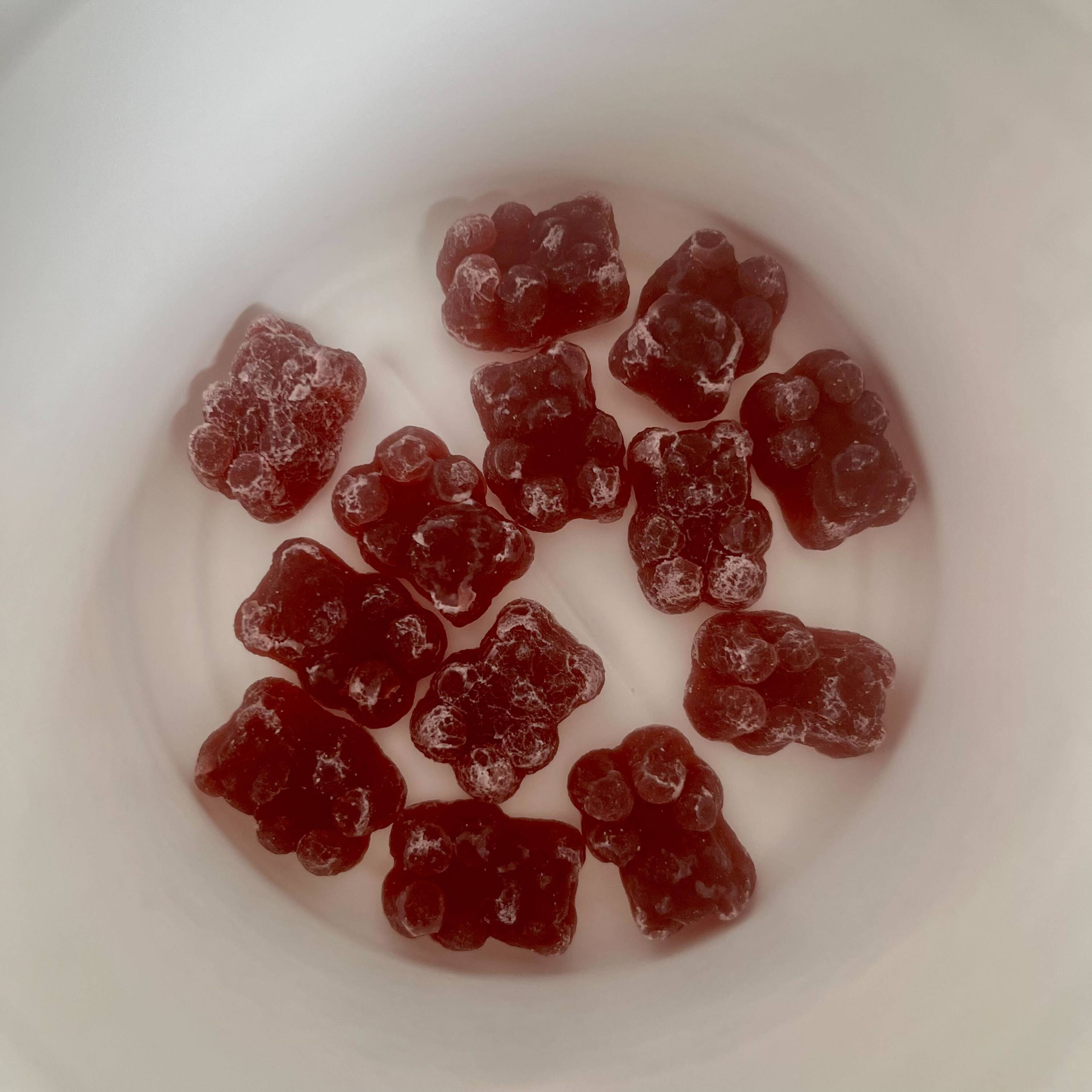 Yes, it is normal for some products to have this appearance! The traditional way of sweetening gummy products is using a mixture of glucose and sucrose. The advantage of using a mixture of glucose and sucrose is the high solubility of these sweeteners and the ability to retard sucrose crystallizatio. However, we have chosen to replace glucose and sucrose with a mixture of polyols to produce sugar free-gummies. For many years, we have worked with a variety of polyols such as monomers, dimers, and polymeric mixtures to produce the right texture and taste. However, due to the absence of reducing groups in polyols, polyols will increase the precipitation of crystals out of solution. In general, physicochemical stability of products containing polyols is lower than the product containing sugars. Thus, as the time goes by, gummy products which are formulated with polyols will have more crystal precipitation issues (surface graining and shrinkage).
What is your return policy?
At KalaVita, we want to make sure that you absolutely love your gummies, which is why we let our customers try them for 30 days risk-free. If you are not satisfied with your product during this period, we will fully refund you for your first bottle within the first 30 days after your first order. We accept return within 30 days on all unopened order. Please note- shipping is nonrefundable.
We think you'll be super impressed with our selection of gummies. ;)
Is my credit card information secure?
Yes! We use an encryption service to process your payment, your credit card information is hidden from us.
I accidentally placed an order - can it be canceled?
We do our best to make sure our customers can enjoy our gummies as soon as possible. Once your order is submitted, processing begins immediately. While we are unable cancel it in our system, once your order arrives, you may return it. We will receive the return and process a refund within 14 business days.
When will my credit card be charged?
For KalaVita subscriptions, you'll be charged as soon as you place your first order. Depending on your plan, you'll be billed every 30 days or 60 days or 90 days from then on.
How can I cancel my subscription?
You can cancel your subscription by logging in to your account page, scroll down to "Manage Account" and choose the subscription you'd like to cancel. P.S. We'll miss ya!
Can I skip an order on my subscription?
Once logged into your customer portal, click on Delivery schedule to see all upcoming deliveries for your subscriptions. To skip a delivery, click Skip.
How do I update my shipping/billing information?
To update payment information:
Login to the customer portal.

Click the Payment Methods tab.

Expand the payment method to be adjusted.

Click Send update email.
If you used PayPal as your payment gateway, you may be able to edit the payment method in your PayPal settings. Otherwise, you need to cancel the subscription and start a new subscription via checkout.
When will my gummies ship?
As soon as you sign up for KalaVita subscription, we'll ship the goods! After that, we'll send a fresh supply of gummies your way every 30 or 60 days (depending on your plan).
Let customers speak for us
Love the gummies
I love the gummies it has made my hair stronger
Can definitely tell a difference!!!
I haven't taken these a full month yet, however, I can see a lot more new hair growth in the first several weeks I've started them. I'm definitely going to give these gummies a few more months for it to be the true testament, but so far so good. The gummies don't taste bad, can't get much easier on you to have healthy hair!
No breakout
My skin broke out with sugar bear gummy probably due to the sugar and chemicals in it. These are clean and sugar-free since I haven't broken out so far. Only two weeks in, but my nails are growing really fast.
Regular price

From $19.99

Regular price

$59.97

Sale price

From $19.99

Unit price

per